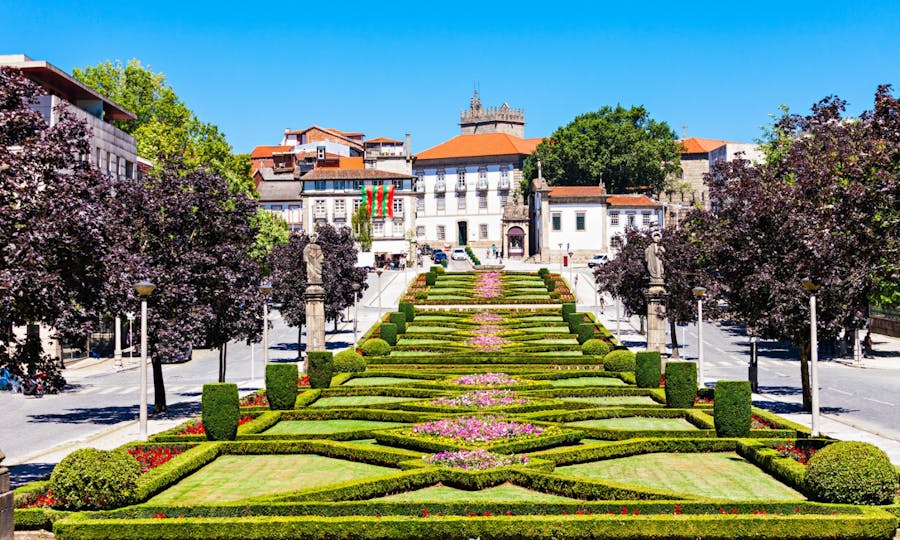 This city was Discovered in the early 9h century and got popular for becoming the very initial capital for Portugal. The first king of Portugal, Afonso Henriques was born here. It holds really importance historically. They even call it the place is known to have housed the greatest Portuguese explorers. It is known for its cultural background and architecture.
Guimãraès Castle
I am drawn to castles like bees are drawn to honey. This castle exactly depicts the medieval times of this precious city. This castle is the most photogenic and classical castles of all. This castle sits over a hilltop and the highest peak of the castle gives you the look of extended valley. It is over a thousand years old. It was built in 900s by then king – Sao Mamede. This castle became the symbolic castle of Portugal. I found many engraved ancient words in the walls of the castle, they can be spotted easily.
Largo Da Oliveira
This city earned its heritage cite status because of the historical and cultural architectures it holds and how well preserved they are. They are so well maintained that many buildings belonging back to the 15th century are still being used. It brings us to the Main Square, also called the Olive square. It's a great place to just sit, have some food, hangout, and chill. It is surrounded by Olive church and the residential racketed houses. Several music shows are held here and I experienced being in one of them, dancing and enjoying with people there.
Nossa Senhora Da Oliveira Monastery
This monastery is also known as "Our lady of olives monastery", this infact was founded by Afonso Henriques. It is very popular for its fascinating local legend and the ornate towers it holds. The king also planted an olive tree right before the church which used for supplying olive oil for lighting the altar lamps, which eventually died. A really amazing gothic shrine was spotted in front of the church.